Selling Online
What You Need
Ready to start selling online? MyDomain provides all kinds of tools and services to help you get started, but first, there are a few key things you need to know. To sell products on your website, you need:
The Ability to Accept Payments: Unless you are planning to give away your products for free, your customers will need a way to pay for the products they wish to purchase. What types of payments will you accept? There are lots of options - PayPal, credit cards, phone orders, checks, gift cards, etc. Whatever method(s) you select, these should integrate seamlessly with your shopping cart. MyDomain offers a few complete solutions that we will explain in "Accepting Payments". Some solutions work better if you sell just a few products (typically a charge per transaction), and others work better if you have an active store (typically a monthly charge for a large number of transactions). Be sure to compare these solutions to find one that would work best for your business.

Shopping Cart Software: Shopping cart software allows users to place the products they choose online into a virtual shopping cart, and then pay for them once they've finished shopping. There are lots of different ways to set up and integrate a shopping cart into your website, which we'll go over in detail later (see "Creating an Online Store").
It may sound complicated, but the good news is all of these tools are available via your hosting account, and we'll show you what they are and how to use them. There are lots of options when it comes to configuring your site to sell products online, and we've designed this guide to explain how to implement the right tools for you.
Accepting Payments
What payment options do you plan to offer your customers? While it may seem out-of-step to consider accepting payments before you've configured your store, different payment options come with different requirements. You may need to set up a PayPal Business Account or another type of merchant account based on the payment method you choose to accept, and you'll need this information when you're ready to create your shopping cart.
Accept Credit Cards with AcceptSafe
In order to accept credit card payments on your site, you'll need both a merchant account and a payment gateway. A merchant account is a bank account designed to accept electronic payments for your business. When customers purchase a product from your website, the money they pay for that product is deposited into this account. A payment gateway, on the other hand, authorizes your customers' credit cards and actually processes the transactions.
MyDomain offers AcceptSafe as your one stop solution, which includes a merchant account and a payment gateway.
Article: Online credit card processing
Accept PayPal
PayPal is another great payment option to consider. Most online shoppers are already familiar with PayPal and recognize it as a secure way to make purchases on the web. It's also easy to use and gives you lots of flexibility.
You can fully integrate PayPayl into your website with the "Express Checkout" plan, while the "Standard" and "Pro" plans act as an all-in-one solution. Compare plans to decide which is right for you.
Article: Using PayPal solutions to accept payments
It's important to remember you don't have to choose one or the other. PayPal gives you lots of options, and you are welcome to purchase both payment options to give your customers a variety of ways to pay for your products.
Creating an Online Store
What is a Shopping Cart?
A shopping cart is a type of software that allows customers to purchase multiple products on your site, then pay for them when they've finished shopping. That said, a shopping cart can take many different forms depending on how you plan to implement it. You can use shopping cart software to:
Add an online store as a new page on your existing site
Add purchase buttons to products listed on your site
Create a website with an integrated store
Shopping Cart Options
Here are some of the options available to you via your control panel:
1. Configure the Ecommerce Widget in the Drag and Drop Site Builder
Our Drag and Drop Site Builder has an ecommerce widget that allows you to build a small store. If you are just starting out, or experimenting, this is a great option for you. However, it does not offer the management capabilities and flexibility of a shopping cart.
2. Integrate the Drag and Drop Site Builder with ShopSite
ShopSite allows you to add "Add to Cart" and "Buy Now" buttons to any site, including a site you've created with Adobe Dreamweaver, WordPress, and the Drag and Drop Site Builder. Adding these buttons is as simple or as feature-rich as you wish to make it. You can harness the full power of ShopSite, including all store and order management capabilities, just by configuring these buttons. The added management features included with ShopSite make this option a better fit for those who want to sell more products on their site.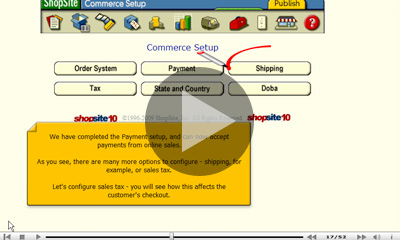 3. Create a Store with ShopSite
ShopSite also allows you to create an online store. You can link to the store from a site you've already created, or you can build your whole website via ShopSite as a stand alone store.
Article: ShopSite Basics
ShopSite offers a wide range of features to help you build and manage your store, including tax, shipment, payment, and order management options. You can also build an email list for email marketing opportunities, send automated thank you notes, and more.
4. Create an Advanced Store with osCommerce
This flexible open source shopping cart offers more customization capabilities, but it's also more difficult to use. If you're not a professional web developer, we suggest one of the options above. However, more advanced users might prefer osCommerce, available for installation via SimpleScripts.
Article: Using osCommerce